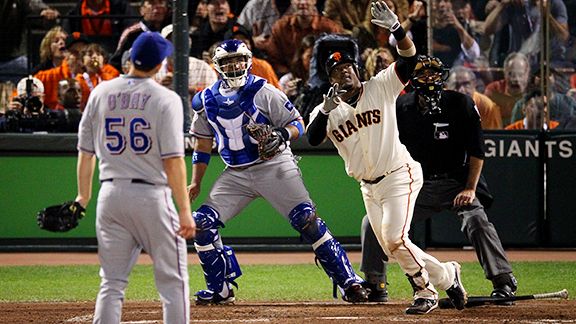 Cody Ross was the NLCS MVP and the Giants probably wouldn't have won the series without him, but let's acknowledge that Cody Ross isn't THAT good. He isn't a bad player, but it was mostly a fluke. I'm not trying to diminish his series. It was great, every successful playoff team needs a guy like that, and if the Giants can go all the way, he'll be remembered by Giants fans forever. Well, maybe it's Freddy Sanchez's turn to be the unpredictable guy that has a great, kinda fluky series. He was not fooled by Cliff Lee at all, going 3-for-3 with 3 doubles in his first 3 at-bats and 4-for-5 overall with 3 RBI. There were other contributors, but Sanchez sparked the Giants' huge 11-7 Game 1 win against Cliff Lee and the Rangers.
You know how many runs were scored in this game? In case you don't read the title and can't do simple addition, the answer is 18. That is a lot for a game in which Cliff Lee and Tim Lincecum are the starting pitchers. Both were obviously not themselves, but Lincecum was less bad. Lee went just 4 2/3 innings and gave up 8 H, 6 ER, and 1 BB with 7 Ks. Lincecum's line looked like this: 5 2/3 IP, 8 H, 4 ER, 2 BB, 3 Ks. Yeah, just 3 strikeouts.
The game started off in a pretty bizarre way. Lincecum gave up a base hit to the first batter and walked Michael Young. Josh Hamilton hit a weak grounder that advanced both runners. Then Vladimir Guerrero hit a ball that deflected off of Lincecum, allowing a run to score and no outs were made. The next play was, as Lincecum put it, a "brainfart". With runners on 1st and 3rd, Nelson Cruz hit a grounder right to Lincecum and they had Michael Young in a rundown between 3rd and home. But all Timmy did was run Young back to 3rd. It wasn't really even a rundown because Lincecum didn't even try to throw the ball to the 3rd baseman to get Young out. No idea what happened there. He was lucky to get a double play in the next at-bat, limiting the damage to just 1 run. In the bottom half of the inning, with Freddy Sanchez on base after his first double, Buster Posey hit a bloop in the air towards right fielder Vladimir Guerrero, who does not move well at all. Sanchez must've figured there was no way Guerrero would get to the ball, but he seemed to not realize that Ian Kinsler was going for the ball as well. Sanchez badly misjudged it, headed almost all the way to third, and was easily doubled off 2nd base when Kinsler caught the ball. It was a terrible, terrible baserunning mistake. The Rangers would score again in the next inning after a Cliff Lee (the pitcher) double and a sacrifice fly, Texas took a 2-0 lead, and a Giants fan freakout ensued.
Maybe the freakout wasn't all that irrational; Lincecum looked kind of average and the Giants were playing some terrible baseball. But like I said, Lee was not all that sharp either, generally not having his trademark great command and location, and the Giants started doing damage in the 3rd. Renteria reached base on a fielding error by Michael Young. Torres was hit by a pitch. Freddy Sanchez hit his 2nd double, scoring Renteria. Buster Posey singled up the middle to bring in Torres. Bam. Right back in it. And more importantly, Cliff Lee was hittable, which doesn't happen a lot.
Onto the 6th, and what an inning it was. It started with a pair of doubles from Torres and Sanchez (his 3rd). 3-2 Giants. Pat Burrell walked and Cody Ross singled. 4-2 Giants. Aubrey Huff singled. 5-2 Giants and Lee was out of the game already. But the dagger came off the bat of NLCS Game 6 hero, Juan Uribe. His homer in Philly probably would've been a flyout at AT&T. Tonight, he hit hit a legitimate 3-run bomb to right field, giving the Giants an 8-2 lead. The Rangers scored twice in the 6th and that's when Lincecum exited.
The Giants scored a few more funs in the 8th that would actually end up mattering a little bit because the Rangers scored 3 in the 9th, but the game was ultimately too out of reach for the Rangers. It may be a concern that Texas ended up scoring 7 runs off Giants pitching because the Giants normally won't be able to win slugfests. But I'm not too worried. The late innings weren't managed like a tight game with the exception of Brian Wilson coming in; Affeldt and Ramon Ramirez were pitching, not exactly our top relievers.
The Giants played some of their worst baseball in the first 2 innings and still won. The Giants scored 11 runs in a game that Cliff Lee started. Tim Lincecum was not Tim Lincecum and the Giants won. This was a great, huge win. I've always thought that because in all the other pitching matchups the Giants seem to have the advantage, if they won a game against Cliff Lee, they'd be in pretty great shape. Tomorrow's starter for the Rangers, C.J. Wilson, is a very good pitcher. It'll be interesting to see how the Giants do against him. Of course, we always have confidence in Matt Cain, who is very, very good and not average. The Giants should know to never take a World Series lead for granted. A Game 2 win and a 2-0 series lead would be delightful.