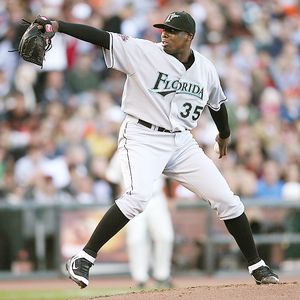 Dontrelle Willis signed a minor league contract with the Giants on Thursday according to the team. Willis, a Bay Area native, is a well-known name around the league because of his outgoing personality and extremely odd pitching delivery, but the reality is that he's never really been too good. Nevertheless, it's an interesting move with absolutely no risk involved.
A common misconception with Willis is that he used to be so good and all of a sudden imploded. But he's only had one very good year, in 2005, when he was second in the Cy Young voting and went 22-10 with a 2.63 ERA and a 1.134 WHIP. His numbers in 2003 (when he won the AL Rookie of the Year), 2004, and 2006 were okay, but he always allowed too many baserunners, which is never a good sign. His 2007 campaign was not very good, and his 2008 was a disaster. Willis battled injuries and in limited innings he posted a 2.208 WHIP and 13.1 BB/9, pretty terrifying numbers. Things haven't gotten any better and in 15 games played this year with Detroit and Arizona, Willis has gone 2-3 with a 5.62 ERA and a 1.949 WHIP.
When this move was first announced, I thought it was a good move to make in case Jonathan Sanchez was traded and we needed a fifth starter. Apparently though, Willis will be pitching
out of the bullpen
. I don't know how effective he'll be there considering his control issues and high walk rates, but maybe if he improves, he'll be able to start a few games. There is some hope for Willis. He's just 28, his K/9 rate is still pretty much in line with his career average, and he wants to get better.
Like I said, Willis was never really as good as everyone thought he was, but he did have a noticeable decline beginning in 2007. For whatever reason, no one has been able to fix what is wrong with him. Detroit tried putting him on the disabled list in 2009 with "anxiety disorder" but that didn't seem to help. He's had injury issues, but his sudden lack of command can probably be explained by a mechanical flaw. He came to the Giants because he wants to work with Dick Tidrow, who's known as a pitching guru, and if Tidrow can get anything out of him, this is a great move.