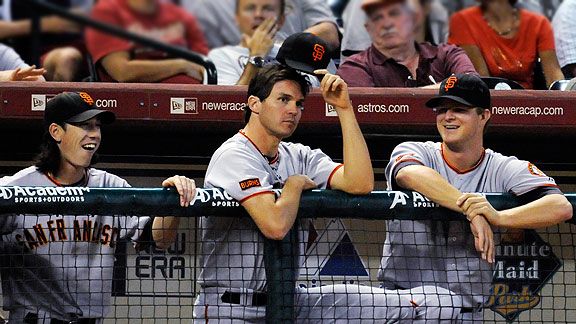 Okay, last night's game was terrible. The Giants blew a lead against a team that is slowly creeping up behind them in the standings and they failed to capitalize on a night when both the Wild Card and division leaders lost. Maybe that flyball was a freak play and every outfielder would have charged in to get it. Fine, I think I can buy that. But Freddy Sanchez's terrible bounce pass to 3rd base gave up the lead, and none of it would've mattered if the Giants scored more than one pathetic run. The game was lost yesterday because of bad defense and bad offense. However, last night's game was a good sign for one reason, though. The pitching. For once, I'm going to be optimistic.
The pitching struggles in August have been well-documented. During this month, they've had a 4.65 ERA, good for 3rd worst in the NL. Pretty surprising that our pitching, and not the offense, is costing us down the stretch. Obviously this team is carried by the pitching staff, so they won't be going anywhere near the playoffs if the staff doesn't get back on track. But yesterday, Jonathan Sanchez, the most erratic of all the Giants' starting pitchers, pitched a gem. And the day before, Matt Cain had a quality start. Two back-to-back quality starts from the staff is an extremely welcome sight. Cain has been pretty great all season, but if guys like Sanchez, Zito and Lincecum can get back to their early season dominance, this team's going to be hard to beat. You can tell all of the starters feed off of each other. If everyone's pitching well, no one wants to be the one to break the streak. Like I said a couple of days ago, it just takes a couple of good starts in a row for the staff to get back on track.
I'm willing to bet that last night's game was an anomaly. Our defense is in a pretty bad spell right now, committing 11 errors in the last 5 games. That is terrible and they are not a terrible defensive team. (Jose Guillen is pretty bad though. Despite last night's misplay, Cody Ross is definitely the best option out there.) They aren't great, having below average guys at 3B, SS, and LF, but they don't make too many errors and they're not 11 errors in 5 games bad. Also, the offense should be able to score more often than not. With Sandoval and Sanchez getting hot the lineup now has Torres, Sanchez, Huff, Burrell, Posey, and Sandoval all hitting well. That's not a bad lineup at all. But the key to winning is still the pitching and if last night was any indication, the pitching could be close to regaining form. Maybe the Giants can finally combine good pitching, good hitting, and better defense at the same time. This team needs a run, a July type streak, to get to the playoffs and if that's going to happen, the starters need to get hot.