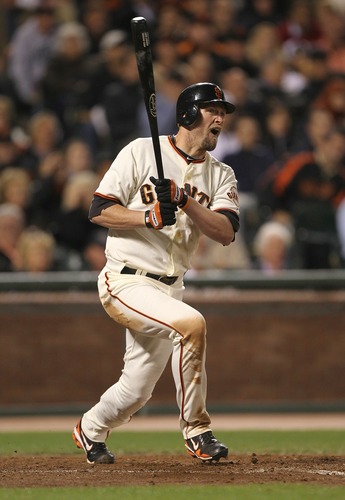 All Giants fans are aware of the fact that Aubrey Huff is having a very good season. There's a little more to it than that, though. Aubrey Huff is quietly having a season worthy of MVP consideration. A lot of you might think that that's a bit of an exaggeration, that he's been good, but not THAT good. And maybe it is, he's not going to win the MVP unless unforeseen things happen, but he will get some votes and don't be surprised if he finishes in the top 10 or maaaybe even the top 5.
Aubrey Huff won't win the MVP for many reasons. First of all, he doesn't get any recognition. Even though All-Star voting is pointless, it is still telling that Huff's numbers weren't "good enough" to be noticed by fans, managers, or players. His lack of recognition, however sad it is, means he has no chance at winning the award. Also, right now Joey Votto is having a great season, an even better season than Huff. Vottto leads the league in AVG, OBP, SLG, OPS, and wOBA and is second in HR and 5th in RBIs. So unless he self-destructs he's going to win it. But another reason Huff won't get much consideration is that his HR and RBI numbers don't look too impressive. Right now his 20 HRs are 13th in the NL and his 65 RBI are good for 16th. We all know that voters still care about those statistics a lot more than they should.
That doesn't mean we can't look at how great Huff has been. If you look at some more important stats, Huff has extremely impressive numbers. He's 3rd in the league in OBP behind Votto and Pujols, 7th in slugging, 3rd in OPS behind Votto and Pujols again, and 2nd in wOBA behind just Votto. What's even more impressive is that Huff is 5th in the NL with a 4.3 WAR, better than guys like Adrian Gonzalez, Prince Fielder, and Hanley Ramirez. A real argument could be made that Huff has been a top 5 player in the National League this year.
The fact that he's even in a discussion about the top players in the league is pretty amazing. I mean, Huff had a .694 OPS last year! And if you told me that you liked this signing in the offseason, you're a liar and I will never believe anything you say. He was only signed for $3 million, and still, no one liked the deal. I even heard someone say, "I have a lot more confidence in our hitters this year. Especially DeRosa, not really Huff." That might've been me, but that's not the point! He wasn't even the front office's first choice. Brian Sabean would've rather signed Nick Johnson or Adam LaRoche. Not to mention the fact that no other team wanted him. Playing for the Giants was Huff's only choice.He's been so much more valuable than Johnson and LaRoche, and the signing has worked out for both the Giants and Aubrey Huff. According to FanGraphs he's been worth $17.2 million this year. That's crazy good money.
League MVP or not, Aubrey Huff has been the Giants MVP. Andres Torres is definitely the co-MVP, but Huff has also brought so many other things to this team. Besides his play this year, he's been versatile. When the organization decided that Bengie Molina needed to be in the lineup everyday, so Buster Posey had to play first base, Huff went to left field. When Pat Burrell was signed, Huff moved over to right field. And he's played good defense at all 3 positions. He's been a great guy to have in the clubhouse, too. You can tell that he's so excited to be in a playoff race and his attitude and sense of humor are infectious. All you need to do is look at his face after Pat Burrell hit that 2-run homer to know that. And for a look into his sense of humor, check out Huff's
road trip adventures
(Thanks to FireSabean for the heads up). So he's very, very good at baseball, he's versatile, and he's funny. What more could you ask for?